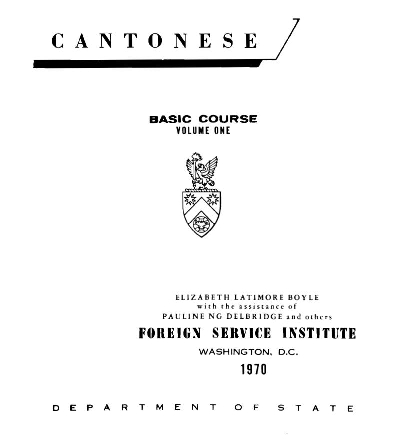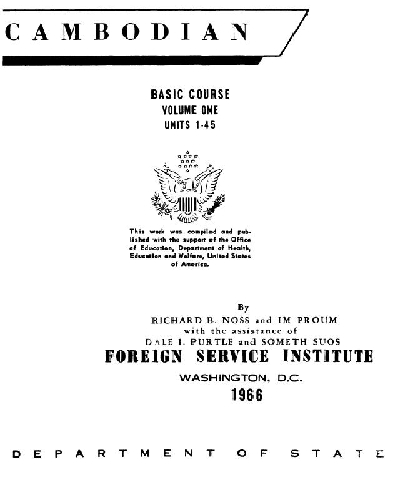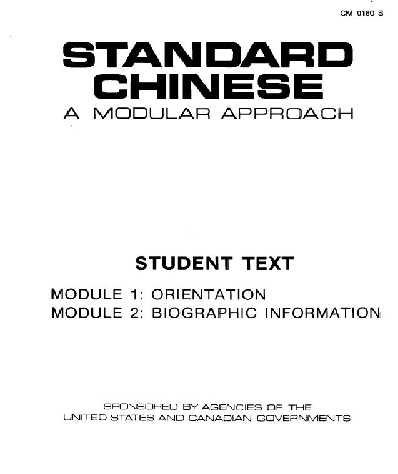 THE ULTIMATE ASIAN LANGUAGE LEARNING PACK DISK.
SAVE OVER 50% BUY THE PACK NOW!
COURSES ORIGINALLY DEVELOPED BY THE FOREIGN SERVICE INSTITUTE. INCLUDES 6 ASIAN LANGUAGE LEARNING PROGRAMS ALL WITH MP3 AUDIO AND PDF TEXT FILES ALL ON 1 DVD-ROM DISK.
CAMBODIAN, CANTONESE, CHINESE, KOREAN, THAI & VIETNAMESE INCLUDED.
THE FOREIGN SERVICE INSTITUTE LANGUAGE COURSES ARE GENERALLY CONSIDERED SOME OF THE BEST FOREIGN LANGUAGE LEARNING COURSES EVER MADE. THEY WERE GENERALLY DESIGNED FOR THE DIPLOMAT SERVICEMAN AND OTHER FOREIGN SERVICE WORKERS TO QUICKLY AND EASILY LEARN A FOREIGN LANGUAGE AND HAVE THE LANGUAGE SKILLS NECESSARY TO OPERATE AND SUCCEED IN THE COUNTRIES THEY WERE WORKING LIVING OR STATIONED IN.
HERE IS WHAT IS INCLUDED
CAMBODIAN FSI COURSE
THIS IS THE FSI CAMBODIAN BASIC COURSE: THIS COURSE INCLUDES VOLUMES 1 WITH STUDENT TEXT MANUALS FOR EACH VOLUME. THERE ARE 45 LESSONS IN ALL WITH MP3 AUDIO INSTRUCTION THAT GOES ALONG WITH THE STUDENT TEXT MANUALS.

Cambodian or Khmer is the official and principal language of the Kingdom of Cambodia. With between five and six million speakers some of whom live in adjacent countries Cambodian is the largest single modern representative of the geographically widespread Mon-Khmer family of languages and the only member of this family which has the status of a national language. Its dialects including those spoken outside of Cambodia proper are remarkably homogeneous except as regards phonology. The two most important dialects Standard and Phnom Penh are both represented in this course.

This Basic Course attempts to provide samples of two different Cambodian dialects. Standard Cambodian the approved speech style of public education and mass communicatiions occupies a central position among the dialects and corresponds more closely with the writing system than any other. The dialect of Phnom Penh the capital differs sharply from Standard in phonology but not appreciably in other respects. It is hoped that familiarizing students with both of these important styles of speech will improve their function as speakers and listeners in a country where the standard language happens not to be based on the speech of the capital where many of the students may live.

The material of the Basic Course is arranged in groups of five units with a common theme. The first four units of each sequence are based on Dialogues usually in the Phnom Penh dialect and the fifth is based on a Narration in Standard Cambodian which reviews the immediately preceding subject matter. The text for Units 1-20 is entirely in standard style. From Unit 21 on most of the text is given in Phnom Penh dialect (except for the Narrations) but a parallel Standard version of each Dialogue is provided in the Dialogue for Comprehension. Vocabulary lists include both forms wherever there is a difference.


OVER 440 INSTRUCTIONAL PAGES
CANTONESE FSI COURSE
THIS IS THE FSI CANTONESE BASIC COURSE: THIS COURSE INCLUDES VOLUMES 1 AND 2 WITH STUDENT TEXT MANUALS FOR EACH VOLUME. THERE ARE 30 LESSONS IN ALL WITH OVER 23 HOURS OF MP3 AUDIO INSTRUCTION THAT GOES ALONG WITH THE STUDENT TEXT MANUALS.

Cantonese is the principal language of Kwangtung province in Southeast China parts of neighboring Kwangsi province and Hong Kong and Macau on China's southeast periphery. In addition Cantonese is spoken by ethnic Chinese in Vietnam Cambodia Laos Singapore and Malaysia with the number of speakers in Southeast Asia being between 45 and 50 million altogether. Americans of Chinese descent in the U.S. are almost entirely of Cantonese origin.
Among the many dialects of Cantonese the prestige variety spoken in Canton is standard by definition and is imitated over a wide area which includes Hong Kong. It is this dialect which is represented in the two-volume FSI Cantonese Basic Course and the related tape recordings.
The course is intended to provide a syllabus for an intensive course of about 400 classroom hours in spoken Cantonese.

Scope of the text:
This Cantonese Basic Course is a course in spoken Cantonese. It uses all the basic grammatical structures of the language and a vocabulary of approximately 950 words. The subject matter of the course deals with daily life in Hong Kong. The course was designed to be taught in an intensive language program of 25-30 class hours a week. Students are expected to spend additional time outside of class listening to tapes of the lessons. There are 30 lessons in the course and the rate of progress in an intensive class is expected to be approximately 2 lessons per week including time for review and testing. Each lesson contains five sections: I) a Basic Conversation to be memorized II) Notes III) Pattern Drills structural drills of the type in which the teacher's cue is the stimulus for the students' response IV) Conversations for Listening a listening comprehension section and V) Say it in Cantonese English to Cantonese practice much of it in conversational question-answer form in which students activate what they have learned in the lesson. The early lessons in addition contain explanation and practice drills on pronunciation points and some classroom phrases for the students to learn to respond to when used by the teacher.

OVER 780 INSTRUCTIONAL PAGES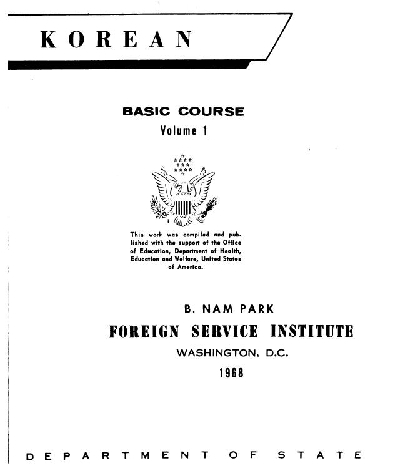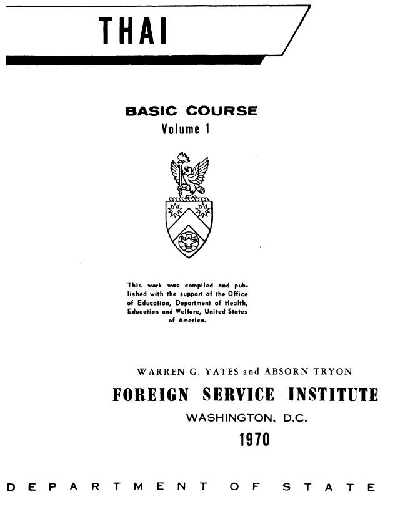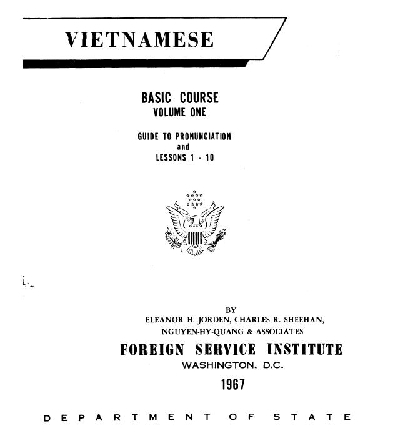 CHINESE FSI COURSE

THIS IS THE FSI STANDARD CHINESE COMPLETE COURSE: THIS COURSE INCLUDES MODULES 1 THRU 9 PLUS OPTIONAL AND RESOURSE MODULES ALL WITH STUDENT TEXT MANUALS FOR EACH MODULE. THERE ARE OVER 300 LESSONS IN ALL WITH WELL OVER 100 HOURS OF MP3 AUDIO INSTRUCTION THAT GOES ALONG WITH THE STUDENT TEXT MANUALS.

ABOUT THE COURSE .
This course is designed to give you a practical command of spoken Standard Chinese. You will learn both to understand and to speak it. Although Standard Chinese is one language there are differences between the particular form it takes in Beijing and the form it takes in the rest of the country. There are also of course significant nonlinguistic differences between regions of the country. Reflecting these regional differences the settings for most conversations are Beijing and Taipei.
This course represents a new approach to the teaching of foreign languages. In many ways it redefines the roles of teacher and student of classwork and homework and of text and tape. Here is what you should expect:
The focus is on communicating in Chinese in practical situations--the obvious ones you will encounter upon arriving in China. You will be communicating in Chinese most of the time you are in class. You will not always be talking about real situations but you will almost always be purposefully exchanging information in Chinese.


How the Course Is Organized
The subtitle of this course "A Modular Approach" refers to overall organization of the materials into MODULES which focus on particular situations or language topics and which allow a certain amount of choice as to what is taught and in what order. To highlight equally significant features of the course the subtitle could just as well have been "A Situational Approach" "A Taped-Input Approach" or "A Communicative Approach."
Ten situational modules form the core of the course:

Talking about who you are and where you are from.
Talking about your background family studies and occupation and about your visit to China.
Making purchases and changing money.
Asking directions in a city or in a building.
Taking buses taxis trains and planes including finding out schedule information buying tickets and making reservations.
Arranging a business meeting nr a
social get-together changing the time of an appointment and declining an invitation.
Talking about families relationships between people cultural roles in traditional society and cultural trends in modern society.
Making travel arrangements and visiting a kindergarten the Great Wall the Ming Tombs a commune and a factory.
Talking about daily life in Beijing street committees leisure activities traffic and transportation buying and rationing housing.
Talking about government and party policy changes described in newspapers: the educational system. agricultural policy international policy ideological policy and policy in the arts.

Each core module consists of tapes a student textbook and a workbook.

WELL OVER 2000 INSTRUCTIONAL PAGES

KOREAN FSI COURSE

THIS IS THE FSI KOREAN BASIC LANGUAGE COURSE. THIS COURSE INCLUDES VOLUMES 1 AND 2. INCLUDED ARE INTRODUCTORY AND STUDENT TEXT MANUALS IN PDF FORMAT AND ASSOCIATED MP3 AUDIO FILES. THERE ARE 47 UNIT LEARNING SECTIONS IN ALL WITH MP3 AUDIO INSTRUCTION THAT GOES ALONG WITH THE STUDENT TEXT MANUALS. OVER 20 HOURS OF AUDIO INSTRUCTION.

THE FSI KOREAN BASIC COURSE PROVIDES INTRODUCTORY MATERIALS IN MODERN SPOKEN KOREAN FOR THE STUDENT WHO WISHES TO ACHEIVE A WORKING COMMAND OF THE LANGUAGE CURRENTLY SPOKEN BY AN ESTIMATED 50 MILLION PEOPLE IN THE KOREAN PENINSULA AND IN JAPAN MANCHURIA AND RUSSIA.

Introduction
These two volumes designed to teach spoken Korean to English speakers. The Korean presented in this book is representative of the 'standard' speech of educated Koreans in Seoul which has been the capital city and cultural educational and political center of the country for over five hundred years. In Korea as in every other nation there is considerable local variation in pronunciation and vocabulary as well as in styles of speech. However in schools all over Korea the language presented here is used and taught as the national standard and if you learn it well you will be speaking a form of Korean which has prestige throughout the country and which will be understood everywhere.

OVER 1000 INSTRUCTIONAL PAGES

THAI FSI COURSE

THIS IS THE FSI THAI BASIC COURSE VOLUME 1 + THE PROGRAMMED INTRODUCTION TO THAI PHONOLOGY: THIS COURSE INCLUDES THE BASIC SET VOLUMES 1 WITH STUDENT TEXT MANUALS. THERE ARE 20 UNIT LESSONS AND 19 PHONOLOGY MP3S IN ALL WITH MP3 AUDIO INSTRUCTION THAT GOES ALONG WITH THE STUDENT TEXT MANUALS.

INTRODUCTION

This is the volume 1 of the FSI course designed to teach Standard Thai. Standard Thai is the national spoken language of Thailand and is the dialect of educated speakers of Bangkok and Central Thailand. Standard Thai in spoken and written form is known to some extent by nearly all Thais. There are approximately 20 million speakers.
The materials contained in this volume consist of the following:
(1) A Programmed Introduction to Thai Phonology
(2) A standard text of 20 lessons and
(3) A text glossary.

OVER 320 INSTRUCTIONAL PAGES

VIETNAMESE FSI COURSE

THIS IS THE FSI VIETNAMESE BASIC COURSE VOLUMES 1 : THIS COURSE INCLUDES THE BASIC SET VOLUMES 1 WITH STUDENT TEXT MANUALS. THERE ARE 10 UNIT LESSONS IN ALL WITH MP3 AUDIO INSTRUCTION THAT GOES ALONG WITH THE STUDENT TEXT MANUALS.

INTRODUCTION
The purpose of the Guide to Pronunciation is to familiarize a student with the pronunciation of Southern Vietnamese to the point where he can recognize and reproduce with facility all its commonly occurring sounds and sequences of sounds.
The method underlying the presentation involves listening contrasting recognizing and imitating. The material has been presented as simply as possible always with the beginning student rather than the professional linguist in mind. While some technical phonetic descriptions are included for those who understand them they can be ignored by the student with limited linguistic background.
This guide should be used in conjunction with the accompanying tape recordings. To try to learn Vietnamese pronunciation by reading the text without reference to the recordings would be as useless as trying to learn to play the piano by reading music without ever touching a keyboard.
The studentts ability to use this guide effectively will be determined largely by his willingness to follow the specific instructions provided at each step. He must also be careful never to move ahead until he has thoroughly mastered what has already been introduced by going over each section as many times as he requires.
A word of caution: While this guide uses conventional Vietnamese spelling it aims primarily at teaching a student how to pronounce - not how to read - Vietnamese. Accordingly all drills should be practiced first with the book closed. Those students who are also interested in developing a reading skill can use the guide to practice reading in addition to - but not in place of - pronunciation practice. AFTER mastering the pronunciation such students can use the Familiarization Drills and Mimicry Drills for reading practice: by reading each item in these drills BEFORE it occurs on the tape their reading can be confirmed (or corrected) by the tape.
This guide should be used not only as an introduction to pronunciation but also for remedial purposes later. Students having pronunciation difficulties should review appropriate drills repeatedly until the difficulties are cleared up.

OVER 320 INSTRUCTIONAL PAGES

ALL COURSE MATERIALS ARE VERY EASY TO FOLLOW AND UNDERSTAND. JUST OPEN YOUR PDF STUDENT TEXT FILE AND START THE MP3 AUDIO FILE FOR LESSON 1. FOLLOW ALONG WITH YOUR MANUAL AND IN NO TIME YOU WILL BE ON YOUR WAY TO LEARNING A NEW LANGUAGE.

AS A SPECIAL BONUS WE ARE ALSO GIVING AWAY FREE 8 DIFFERENT LANGUAGE PHRASE E-BOOKS WITH EVERY PURCHASE. THESE INCLUDE DUTCH FRENCH GERMAN ITALIAN JAPANESE ROMANIAN SPANISH AND SWEDISH

.

IF you have been looking for an easy to read and understand guides that will give you some short but effective foreign phrases you can use when traveling this is your solution! But it's not just for when you're planning a trip to a one of these regions though because...

EVEN IF YOU JUST WANT TO LEARN SOME CONVERSATIONAL FOREIGN PHRASES TO COMMUNICATE WITH FRIENDS OR CO-WORKERS THESE GUIDES WILL HELP YOU! THESE GUIDES NORMALLY SELL FOR $.99 AND UP BUT WE ARE GIVING THEM TO YOU FREE WITH EVERY LANGUAGE COURSE PURCHASE! THAT'S AT LEAST AN $8.00 VALUE!

SOME OF THESE LANGUAGE MANUALS AND COURSES ARE SELLING FOR $19.99 AND UP EACH!! ELSEWHERE THESE COURSES ARE SELLING FOR A $100.00 OR MORE! EACH! BUY NOW AS THIS DEAL MAY NOT LAST LONG!

OUR REGULAR BUY IT NOW PRICES ON THESE COURSES ARE $12.99 TO $15.99 DEPENDING ON COURSE. THE TOTAL VALUE OF THESE COURSES IF PURCHASED SEPARATELY IS OVER $100.00 WITH SHIPPING. SAVE ALMOST 50% BY PURCHASING THIS FANTASTIC DVD-ROM DISK WITH 6 ASIAN LANGUAGE INSTRUCTION MATERIALS.

SYSTEM REQUIREMENTS

Windows 98/NT/Me/2000/XP


D

V

D-ROM Drive

ADOBE ACROBAT REQUIRED TO READ OR PRINT MOST MANUALS. IF YOU DO NOT HAVE ADOBE READER IT IS INCLUDED ON THE DISK FOR YOUR CONVENIENCE.

THIS IS A DISK TO THE HIGHEST QUALITY. DISK'S COME WITH NO FRILLS. THEY'RE JUST A SET OF PLAIN DISK IN A PAPER SLEEVE WITH ULTIMATE QUALITY CONTENT. THEY WILL PLAY ON A COMPUTER WITH THE SYSTEM REQUIREMENTS AS STATED ABOVE.

NO PHYSICAL TEXT MANUALS ARE BEING OFFERED OR SENT. ALL TEXT MATERIALS ARE IN PDF (PORTABLE DOCUMENT FORMAT) FORMAT. ALL MATERIALS ARE INCLUDED ON THE DISK. NO DOWNLOADS ARE NECESSARY.

All material is either in the public domain or I have resell rights. No copyrights are infringed. The Ultimate ASIAN LANGUAGE LEARNING PACK DISK is copyright 1997-2007 and may not be reproduced copied or resold under any circumstances.

Includes the Adobe Acrobat Reader for viewing and printing manuals if necessary.