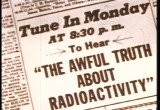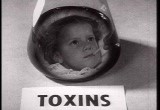 ABOUT FALLOUT 1955.
Attempt to dispel many common myths and fallacies about radioactive fallout. Total Runtime Appx. 8 minutes.
ABOUT FALLOUT 1963.
Optimistic vision of fallout and civil defense countermeasures. Total Runtime Appx. 24 minutes.
BOMBPROOF 1956.
The preservation of vital business records as a measure of civil defense. Total Runtime Appx. 14 minutes.
CHALLENGE OF IDEAS 1961.
John Wayne Edward R. Murrow and others discuss the ideological battle between U.S. and Soviet Union. Total Runtime Appx. 30 minutes.
DAY CALLED X 1955.
Dramatized atomic evacuation of Portland Oregon. Total Runtime Appx. 27 minutes.
DUCK AND COVER 1951.
Duck and Cover was a social guidance film produced in 1951 by the United States federal government's Civil Defense branch shortly after the Soviet Union began nuclear testing. Written by Raymond J. Mauer and directed by Anthony Rizzo of Archer Productions and made with the help of schoolchildren from New York City and Astoria New York it was shown in schools as the cornerstone of the government's "duck and cover" public awareness campaign. The movie states that nuclear war could happen at any time without warning and U.S. citizens should keep this constantly in mind and be ever ready. Total Runtime Appx. 9 minutes.
FALLOUT WHEN AND HOW TO PROTECT YOURSELF 1959.
Animated film on how to protect yourself from nuclear fallout. Total Runtime Appx. 14 minutes.
HEAR AND NOW 1958.
How radio brings news and information to Americans. With footage of many news events covered by radio and images everyday life in the late 1950s. Explains how radio serves in the Cold War and during natural disasters. Total Runtime Appx. 18 minutes.
HURRICANE CALLED BETSY 1959.
Recounts Hurricane Betsyís 3000-mile trip from the Caribbean through the Bahamas Miami the Florida Keys and along the Gulf Coast to New Orleans and Baton Rouge. Total Runtime Appx. 29 minutes.
INFORMATION PROGRAM WITHIN PUBLIC SHELTERS 1963.
Fictional narrative of what to expect after a nuclear blast living in a public shelter. Total Runtime Appx. 13 minutes.
LETS FACE IT.
Film based on the assumption that a nuclear attack from the former Soviet Union was imminent ranked high on the list of U.S. priorities in the 1960ís. A key point emphasized in the video is that for citizens to survive a nuclear attack. Total Runtime Appx. 13 minutes.
MEDICAL ASPECTS OF NUCLEAR RADIATION 1950.
Attempt to argue away the dangers of nuclear radiation with some excellent animation. Total Runtime Appx. 20 minutes.
NEWS MAGAZINE 1950.
Compilation of 1950s newsreel stories on atomic weapons testing civil defense and nuclear energy. Total Runtime Appx. 16 minutes.
OCCUPYING A PUBLIC SHELTER 1965 .
Post bomb shelter life. Total Runtime Appx. 23 minutes.
OUR CITIES MUST FIGHT 1951.
Civil defense film admonishing U.S. city dwellers to stay and fight in case of enemy invasion rather than evacuate. Filmed in New York and other cities. Total Runtime Appx. 9 minutes.
RADIATION SAFETY IN NUCLEAR ENERGY EXPLORATIONS.
Title says it all. Total Runtime Appx. 23 minutes.
RADIOACTIVE FALLOUT AND SHELTER 1965.
Teaches the individual how to take care of his medical and health needs in time of disaster when medical assistance might not be readily available. Presents instructions on radioactive fallout and shelter. Discusses the effects of radiation on people and emphasizes protective procedures against radiation. Total Runtime Appx. 25 minutes.
RADIOLOGICAL DEFENSE 1961.
Nuclear fallout menaces Americans. Total Runtime Appx. 27 minutes.
RURAL CIVIL DEFENSE SPOTS 1965.
Public service announcements by the U.S. Civil Defense office inform farmers what to do in case of nuclear attack using marionettes. Total Runtime Appx. 10 minutes.
SELF PRESERVATION IN AN ATOMIC ATTACK 1950.
Soldiers prepare themselves just in case the big one hits. Total Runtime Appx. 18 minutes.
STAY SAFE 1960.
Instructional film on nuclear weapons for U.S. Air Force personnel. This part-animated film includes an explanation of nuclear physics; footage of atmospheric and underground testing; and a bomber making a crash landing. Total Runtime Appx. 23 minutes.
SURVIVAL UNDER ATOMIC ATTACK 1951.
Explains the dangers of the atomic bomb the effects of radiation and how to protect oneself if caught in the open or in the home. Total Runtime Appx. 9 minutes.
TARGET YOU 1953.
Early civil defense film telling about the facts of preparedness. Total Runtime Appx. 23 minutes.
TOWN OF THE TIMES 1963.
Dramatized promotion for the Department of Defense's massive public shelter program of the early '60s stars Ralph Meeker. Total Runtime Appx. 25 minutes.
WARNING RED 1956.
Film about a man who witnesses the bomb blast and his journey to re-unite with his family. Total Runtime Appx. 14 minutes.
WHAT TO DO IN A GAS ATTACK 1942.
Explains what war gas is how it is used by the enemy and how simple household items such as bicarbonate of soda and bleaching solution may be used to prevent casualties. Total Runtime Appx. 14 minutes.
WHAT YOU SHOULD KNOW ABOUT BIOLOGICAL WARFARE 1952.
How can we protect ourselves against the threats of germs and toxins? Cold War America gears up to fend off threats from unconventional bioweapons. Total Runtime Appx. 7 minutes.
YOUR CHANCE TO LIVE 1972.
Presents the story of a teenage couple caught in the tragic path of a Tsunami as a means of explaining the nature of earthquakes and the consequences of their power. Total Runtime Appx. 13 minutes.
All underlying materials are in the public domain. All materials digitized restored and reproduced by us and not copied from any other cd or dvd product. No copyrights are infringed. We have systems in place to dispute any and all infringement claims and will file counter claims and suits if necessary to protect our rights. The ULTIMATE CIVIL DEFENSE DVD DISK is copyright 1997-2009 WWW.EVERYTHING4LESSSTORE.COM and may not be reproduced copied or resold under any circumstances. We are the producers manufacturers and sole distributors of this disk.