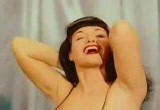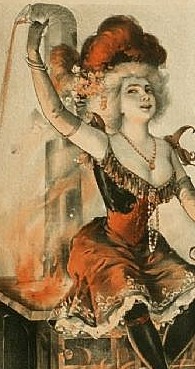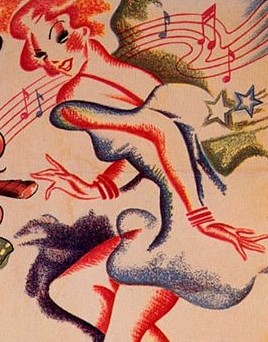 THE ULTIMATE VINTAGE BURLESQUE COLLECTION VOLUME 2 ON DVD!

42

VINTAGE RARE HISTORIC BURLESQUE AND MORE VIDEOS ON 1 DVD MOVIE DISK!!!

THIS IS THE ULTIMATE BURLESQUE AND MORE COLLECTION. ALL BROUGHT TOGETHER ON 1 DVD. ALMOST 2 HOURS OF RARE VINTAGE BURLESQUE AND MORE!!!

PLAYABLE ON ANY HOME DVD PLAYER. ALL REGION NTSC.

Burlesque is a humorous theatrical entertainment involving parody and sometimes grotesque exaggeration. Prior to Burlesque becoming associated with striptease it was a form of musical and theatrical parody in which an opera or piece of classical theatre is adapted in a broad often risqué style very different from that for which it was originally known.

This is a rare collection of clips from the 30' through 60's.

JUST LOOK AT WHAT THIS COLLECTION HAS TO OFFER!!!
60'S DANCERS
ALL TIED UP
ATTIC QUEEN
BEAUTY AND THE CHAIR
BEDROOM TAKEOVER
CANDY MORRISON
DANCING IN THE WOODS
TAHITIAN BEACHCOMBER
GLAMOROUS NONSENSE
DIXIE EVANS
DREAMY PLAYTHING
SWINGING GIRLS
JANEY REYNOLDS
MAKING HAY
MARSHA JORDAN
MISTY
NAK3D AT HOME
NAK3D FRIVOLITY
NANCY

NATOMA AND MR FREDERICK
NUDI$T BY THE WATER
PATRICE
SLAPSTICK
SNAKE CHARM PARTS 1 THROUGH 6
BATH TIME BEAUTY
LADDER STRIP
STRIP POKER
STRIP QUEEN
TIMID DRESSMAKER
VIKKI
VINTAGE 60'S BEAUTY
VINTAGE PLAYGIRL
VINTAGE BATH TIME
STRIP TEASE
TELEPHONE STRIPPER
WASHING CLOTHES
WOMAN IN A BOAT
YOU WILL NOT FIND THIS COLLECTION ANYWHERE ELSE OR FOR A LOWER PRICE!!!
ALMOST 2 HOURS OF VIDEO ENJOYMENT!
TOTAL RUNTIME 115 MINUTES. NTSC. DVD. ALL REGION. WITH MENU FOR EASY NAVIGATION.
THIS IS A 1 DVD VIDEO DISK TITLED THE ULTIMATE BURLESQUE AND MORE COLLECTION AS DESCRIBED ABOVE. THE DISK IS VIEWABLE ON YOUR HOME DVD PLAYER OR COMPUTER USING YOUR STANDARD WINDOWS OR MAC SOFTWARE FOR VIEWING DVD MOVIE VIDEOS.
DISK DOES NOT CONTAIN ANY PORNOGRAPHY OR SEX ACTS AS DEFINED AND IS STRICTLY FOR ARTISTIC AND HISTORICAL PURPOSES.
THIS IS A DVD TO THE HIGHEST QUALITY. DISK'S COME WITH NO FRILLS. THEY'RE JUST A SET OF PLAIN DISK IN A PAPER SLEEVE WITH ULTIMATE QUALITY CONTENT. THEY WILL PLAY ON EQUIPMENT AS STATED ABOVE. PLEASE BE AWARE THAT THESE ARE REPRODUCED FROM ORIGINAL ARCHIVED MATERIALS. SOURCE OF MATERIALS ARE OLD AND SOUND AND VIDEO QUALITY MAY NOT BE ON PAR WITH MODERN MOTION PICTURES ETC. PLEASE UNDERSTAND THIS AS PICTURE AND SOUND QUALITY ARE BEYOND OUR CONTROL AND ARE NOT A BASIS FOR ANY RETURN OR EXCHANGE.

All original source materials used in the making of this disk have been extensively researched with the copyright office and all materials have been determined to be in the public domain. No copyrights are infringed. If applicable characters are trademarks of their respective owners and are only used for descriptive purposes as allowed by fair use law to describe product being sold. If applicable Seller has no affiliation with any publishers of the original materials nor trademark owners and no affiliation is intended or implied. As we are the sole creators manufacturers and distributors of this product we hold legal copyright to the product and its contents. Products are produced in-house using state of the art duplication techniques and conforms and is in compliance with any and all policies that may apply regarding the sale of media on recordable formats and buyers may not reproduce copy or resell under any circumstances. NO SALES TO DEALERS OR SELLERS. The Ultimate BURLESQUE COLLECTION DVD is copyright 1995-2009