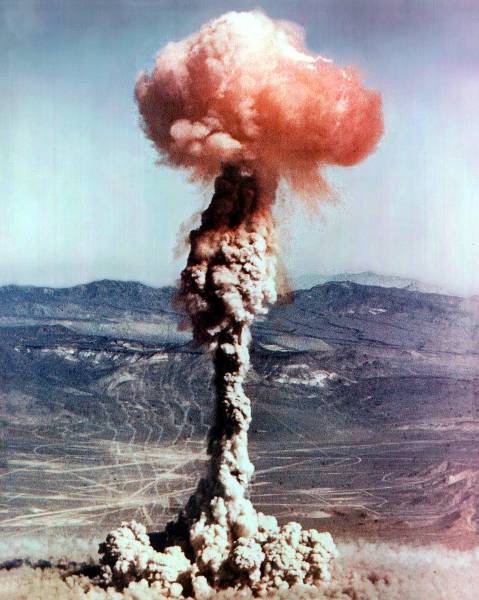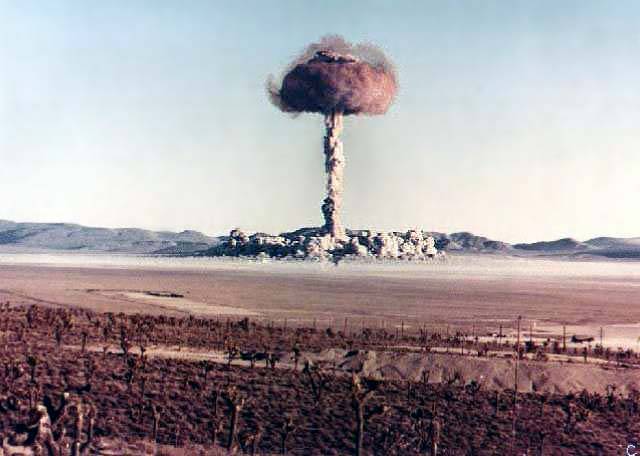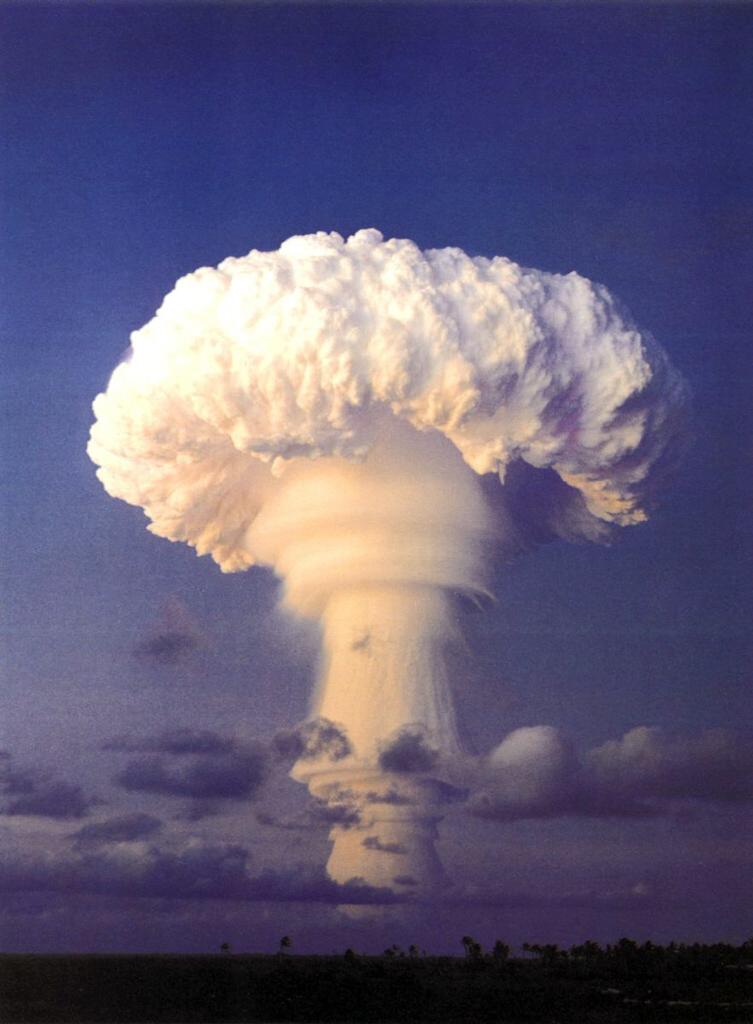 THE ULTIMATE OFFICIAL U.S. NUCLEAR TEST COLLECTION ON DVD VOLUME 1!
7 HISTORIC CLASSIC NUCLEAR TEST VIDEOS ON 1 DVD MOVIE DISK!!!
THIS IS THE ULTIMATE US NUCLEAR TESTING COLLECTION. ALL BROUGHT TOGETHER ON 1 DVD. OVER 3 HOURS OF VINTAGE NUCLEAR TESTING!!!
DON'T FORGET TO CHECK OUT OUR OTHER VOLUMES TO COMPLETE YOUR COLLECTION!
PLAYABLE ON ANY HOME DVD PLAYER. ALL REGION NTSC.
Nuclear weapons tests are experiments carried out to determine the effectiveness yield and explosive capability of nuclear weapons. Throughout the twentieth century most nations that have developed nuclear weapons have tested them. Testing nuclear weapons can yield information about how the weapons work as well as how the weapons behave under various conditions and how structures behave when subjected to nuclear explosions. Additionally nuclear testing has often been used as an indicator of scientific and military strength and many tests have been overtly political in their intention; most nuclear weapons states publicly declared their nuclear status by means of a nuclear test.

The first atomic test was detonated by the United States at the Trinity site on July 16 1945 with a yield approximately equivalent to 20 kilotons. The first hydrogen bomb codenamed "Mike" was tested at the Enewetak atoll in the Marshall Islands on November 1 (local date) in 1952 also by the United States.

The first nuclear weapons test was conducted in Alamogordo New Mexico on July 16 1945 during the Manhattan Project and given the codename "Trinity". The test was originally to confirm that the implosion-type nuclear weapon design was feasible and to give an idea of what the actual size and effects of a nuclear explosion would be before they were used in combat against Japan. While the test gave a good approximation of many of the explosion's effects it did not give an appreciable understanding of nuclear fallout which was not well understood by the project scientists until well after the atomic bombings of Hiroshima and Nagasaki.

The United States conducted six nuclear tests before the Soviet Union developed their first atomic bomb (Joe 1) and tested it on August 29 1949. Neither country had very many nuclear weapons to spare at first and so testing was relatively infrequent (when the U.S. used two weapons for Operation Crossroads in 1946 they were detonating over 20% of their current arsenal). However by the 1950s the United States had established a dedicated test site on its own territory (Nevada Test Site) and were also using a site in the Marshall Islands (Pacific Proving Grounds) for extensive nuclear testing.

The early tests were used primarily to discern the military effects of nuclear weapons (Crossroads had involved the effect of nuclear weapons on a navy and how they functioned underwater) and to test new weapon designs. During the 1950s these included new hydrogen bomb designs which were tested in the Pacific and also new and improved fission weapon designs.
JUST LOOK AT WHAT THIS COLLECTION HAS TO OFFER!!!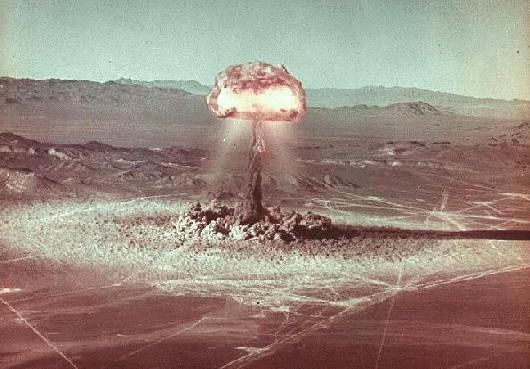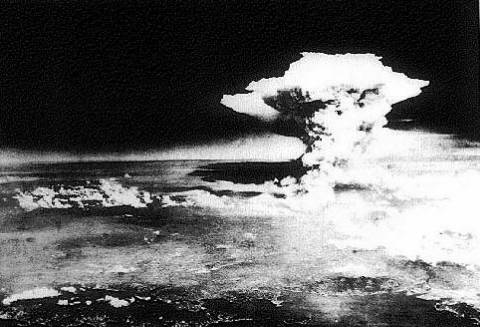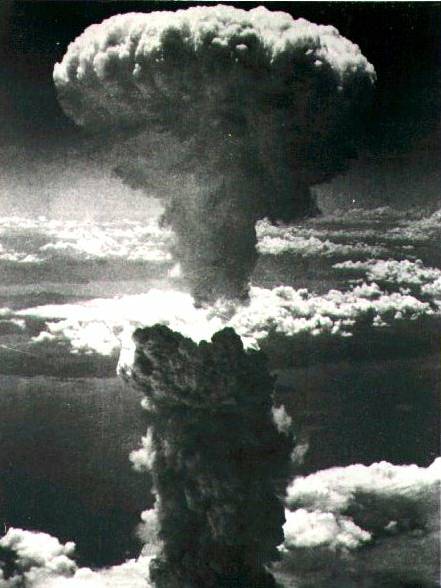 ATOM BOMB 1946.
Early atomic weapons testing film. Total Runtime Appx. 7 minutes.
OPERATION CROSSROADS 1946.
Operation Crossroads was a series of nuclear weapon tests conducted by the United States at Bikini Atoll in the summer of 1946. Its purpose was to test the effect of nuclear weapons on naval ships. The series consisted of two detonations each with a yield of 23 kilotons. Able was detonated at an altitude of 520 feet (158 m) on 1 July 1946; Baker was detonated 90 feet (27 m) underwater on 25 July 1946. A third planned burst Charlie was canceled. Total Runtime Appx. 27 minutes.
Special Delivery 1946.
Airplanes and missions of the U.S. Army Air Forces emphasizing Operation Crossroads (the Bikini Island atomic bomb tests). Total Runtime Appx. 13 minutes.
TRINITY through BUSTER-JANGLE 1952.
Originally made in 1952 this carefully sanitized film to edit out sensitive technical information was declassified in 1997. It covers the first test at Trinity in 1946 to the BUster-Jangle test in 1951. Highly detailed with very informative explanations on each of the tests. A must have for historical refernce to the early atomic weapons program. Total Runtime Appx. 22 minutes.
Military Participation on BUSTER-JANGLE 1951.
Operation Buster-Jangle was a series of seven (six atmospheric one underground) nuclear weapons tests conducted by the United States in late 1951 at the Nevada Test Site. Buster-Jangle was the first joint test program between the DOD and Los Alamos National Laboratories. 6500 troops were involved in the Desert Rock I II and III exercises in conjunction with the tests. The last two tests evaluated the cratering effects of low-yield nuclear devices. This series preceded Operation Tumbler-Snapper and followed Operation Greenhouse. Total Runtime Appx. 75 minutes.
Exercise Desert Rock 1951.
Exercise Desert Rock was a 1951 experiment by the Atomic Energy Commission working with the US Army to "allay fears and uncertainty regarding nuclear radiation and gamma and x-ray effects on humans and animals". The test was done at the Nevada Proving Grounds with an estimated 5000 troops in a tent encampment approximately 27 miles from ground zero. Total Runtime Appx. 27 minutes.
Operation GREENHOUSE 1951.
Was the fifth American nuclear test series the second conducted in 1951 and the first to test principles that would lead to developing thermonuclear weapons (hydrogen bombs). Conducted at the new Pacific Proving Ground all of the devices were mounted in large steel towers to simulate air bursts. Succeeded Operation Ranger Preceded Operation Buster-Jangle.

Greenhouse represented new and aggressive designs for nuclear weapons. The main idea was to reduce the size weight and most importantly reduce the amount of fissile material necessary for nuclear weapons while increasing the destructive power. With the Soviet Union's first nuclear test just a year and half earlier the United States had begun stockpiling the new designs before they were actually proven. Thus the success of Greenhouse was vital before the development of thermonuclear weapons could continue.

A number of target buildings including bunkers homes and factories were built on Mujinkarikku Island to test weapon effects.

The "George" explosion was the world's first thermonuclear burn though it was just a test design unsuitable for weaponization. Shaped like a torus the "George Device" had a small amount of liquid hydrogen placed at its center. The vast majority of its yield derived from fission; the energy output from fusion was insignificant in comparison. However it validated the principles which would be used for the first full thermonuclear device test Ivy Mike a year later. "Item" was the first boosted fission weapon nearly doubling the normal yield of a similar non-boosted weapon. Total Runtime Appx. 22 minutes.
YOU WILL NOT FIND THIS COLLECTION ANYWHERE ELSE OR FOR A LOWER PRICE!!!
COMPARE TO OTHER SELLERS WHO ONLY SELL ONE OF THESE FILMS FOR THIS PRICE!
OVER 3 HOURS OF VIDEO ENJOYMENT!
TOTAL RUNTIME 194 MINUTES. NTSC. DVD. ALL REGION. WITH MENU FOR EASY NAVIGATION.
THIS IS A 1 DVD VIDEO DISK TITLED THE ULTIMATE OFFICIAL U.S. NUCLEAR TESTING DVD AS DESCRIBED ABOVE. THE DISK IS VIEWABLE ON YOUR HOME DVD PLAYER OR COMPUTER USING YOUR STANDARD WINDOWS OR MAC SOFTWARE FOR VIEWING DVD MOVIE VIDEOS.
THIS IS A DVD TO THE HIGHEST QUALITY. DISK'S COME WITH NO FRILLS. THEY'RE JUST A SET OF PLAIN DISK IN A PAPER SLEEVE WITH ULTIMATE QUALITY CONTENT. THEY WILL PLAY ON EQUIPMENT AS STATED ABOVE. PLEASE BE AWARE THAT THESE ARE REPRODUCED FROM ORIGINAL ARCHIVED U.S. GOVERNMENT MATERIALS. SOURCE OF MATERIALS ARE OLD AND SOUND AND VIDEO QUALITY MAY NOT BE ON PAR WITH MODERN MOTION PICTURES ETC. MANY OF THE VIDEOS ARE SANITIZED TO REMOVE CLASSIFIED INFORMATION AND SOME PARTS MAY BE MISSING SOUND. PLEASE UNDERSTAND THIS AS PICTURE AND SOUND QUALITY ARE BEYOND OUR CONTROL AND ARE NOT A BASIS FOR ANY RETURN OR EXCHANGE.
All underlying materials are U.S. Government materials and are in the public domain. All materials digitized restored and reproduced by us and not copied from any other cd or dvd product. No copyrights are infringed. We have systems in place to dispute any and all infringement claims and will file counter claims and suits if necessary to protect our rights. The ULTIMATE U.S. NUCLEAR TESTING DVD DISK is copyright 1997-2008 WWW.EVERYTHING4LESSSTORE.COM and may not be reproduced copied or resold under any circumstances. We are the producers manufacturers and sole distributors of this disk.