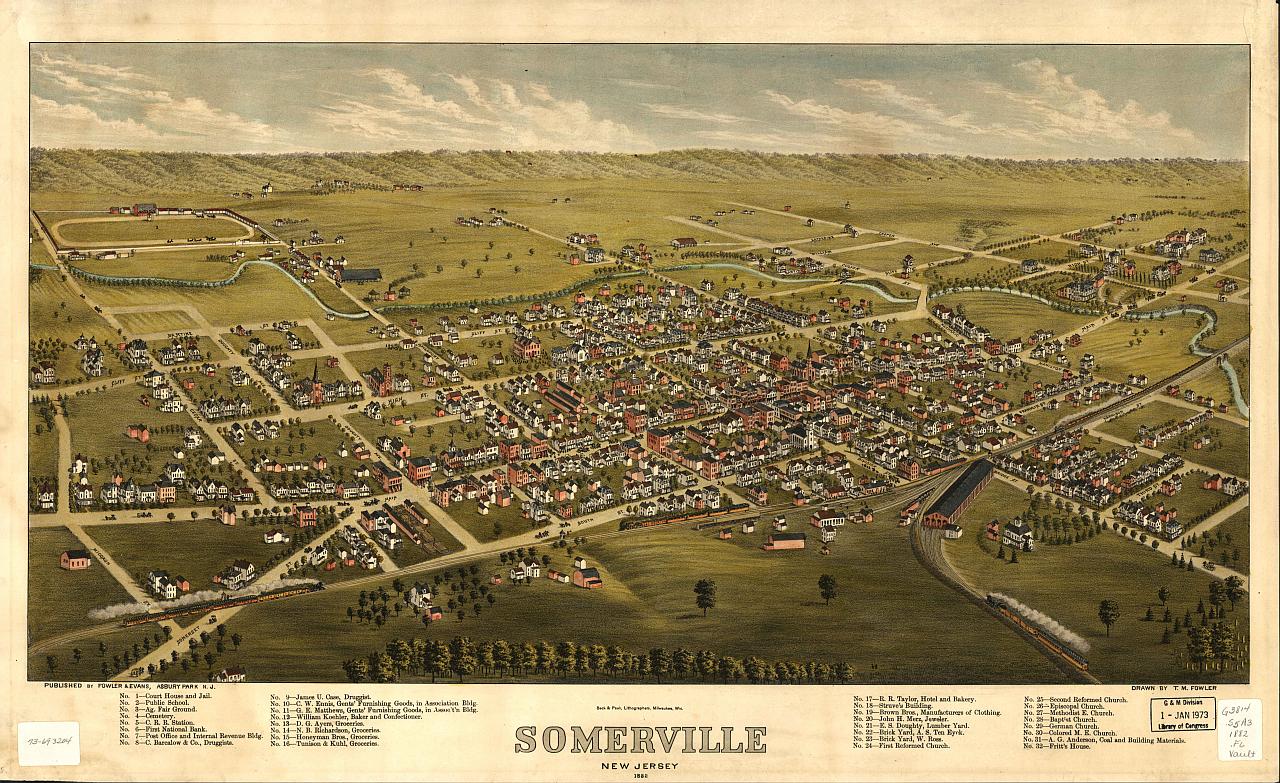 THE ULTIMATE VINTAGE PANORAMIC MAPS COLLECTION DEAL!
OVER 1,400+ VINTAGE PANORAMIC MAPS ON 3 DVD-ROM DISKS! PLUS AS A SPECIAL BONUS ALSO INCLUDED IS THE RARE 1570 "THEATRUM ORBIS TERRARUM" WORLD MAP COLLECTION BY ABRAHAM ORTELIUS! A $9.99 VALUE! INCLUDED HERE ABSOLUTELY FREE!
THIS IS ABSOLUTELY THE LOWEST COST FOR THIS COLLECTION YOU WILL FIND. OTHERS ARE SELLING INDIVIDUAL DISKS FOR $9.99 AND THE FULL MAP COLLECTION (THEIRS ARE ONLY 1,300 MAPS AND 30+ CD DISKS) FOR $149.00!!! DO YOU REALLY NEED 30+ DISKS! PLUS WITH THEIRS YOU HAVE TO INSTALL SPECIAL SOFTWARE JUST TO VIEW THESE MAPS!
WE SAY NO WAY TO THE HIGH PRICES AND SOFTWARE!
WE ACQUIRED THE LATEST MAPS FROM THE U.S. GOVERNMENT AND PAINSTAKINGLY RE-DIGITIZED THEM MAKING SURE THAT THESE MAPS WOULD HAVE A COMPARABLE QUALITY TO THE ORIGINALS AND WE DID IT! NOW YOU CAN VIEW, EDIT OR PRINT FROM YOUR FAVORITE PICTURE VIEWING SOFTWARE ALREADY INSTALLED ON YOUR COMPUTER! THESE ARE ALL IN HIGH QUALITY JPEG FORMAT AND ALL FILES HAVE DESCRIPTIVE NAMES WITH STATE AND CITY NAME TO EASILY FIND WHAT YOU ARE LOOKING FOR.
The panoramic map was a popular cartographic form used to depict U.S. and Canadian cities and towns during the late nineteenth and early twentieth centuries. Known also as bird's-eye views, perspective maps, and aero views, panoramic maps are nonphotographic representations of cities portrayed as if viewed from above at an oblique angle. Although not generally drawn to scale, they show street patterns, individual buildings, and major landscape features in perspective. This collection has over 1,400 panoramic maps, the bulk of which were done by Albert Ruger, Thaddeus Mortimer Fowler, Lucien R. Burleigh, Henry Wellge, and Oakley H. Bailey. These five artists prepared more than 55 percent of the panoramic maps.
The tradition of perspective mapping flowered in Europe in the late sixteenth and early seventeenth centuries. Mathias Merian, George Braun, Franz Hogenberg, and others produced perspective maps of European cities. These early European town plans, most often portraying major political or marketing centers, were small in size and were generally incorporated in atlases or geographical books. The perspective was usually at a low oblique angle, and streets were seldom identified by name. In some instances, the views were hypothetical, and one pattern might be used to represent various European cities.
A modified version of the Renaissance city view was employed in the United States before the Civil War. Like their European predecessors, these perspectives, usually of large cities, were drawn at low oblique angles and at times even at ground level. Street patterns were often indistinct. Preparation of panoramic maps involved a vast amount of painstakingly detailed labor. For each project a frame or projection was developed, showing in perspective the pattern of streets. The artist then walked in the street, sketching buildings, trees, and other features to present a complete and accurate landscape as though seen from an elevation of 2,000 to 3,000 feet. These data were entered on the frame in his workroom. Also popular during this period were views of American cities drawn as though viewed from extremely great heights.
Victorian America's panoramic maps differ dramatically from the Renaissance city perspectives. The post-Civil War town views are more accurate and are drawn from a higher oblique angle. Small towns as well as major urban centers were portrayed. Panoramic mapping of urban centers was unique to North America in this era. Most panoramic maps were published independently, not as plates in an atlas or in a descriptive geographical book. Preparation and sale of nineteenth-century panoramas were motivated by civic pride and the desire of the city fathers to encourage commercial growth. Many views were prepared for and endorsed by chambers of commerce and other civic organizations and were used as advertisements of a city's commercial and residential potential.
Panoramic maps not only showed the existing city but sometimes also depicted areas planned for development. Real estate agents and chambers of commerce used the maps to promote sales to prospective buyers of homes and business properties. Henry Wellge's 1892 panorama of Norfolk, Virginia, for example, was distributed with the compliments of Pollard Brothers Real Estate, and Thaddeus M. Fowler's 1893 view of Morrisville, Pennsylvania, was commissioned by realtor William G. Howell.
Panoramic maps graphically depict the vibrant life of a city. Harbors are shown choked with ships, often to the extent of constituting hazards to navigation. Trains speed along railroad tracks, at times on the same roadbed with locomotives and cars headed in the opposite direction. People and horse drawn carriages fill the streets, and smoke belches from the stacks of industrial plants. Urban and industrial development in post-Civil War America is vividly portrayed in the maps.
Advances in lithography, photolithography, photoengraving, and chromolithography, which made possible inexpensive and multiple copies, along with prosperous communities willing to purchase prints, made panoramic maps popular wall hangings during America's Victorian Age. The citizen could view with pride his immediate environment and point out his own property to guests, since the map artist, for a suitable fee, obligingly included illustrations of private homes as insets to the main city plan. As late as the 1920s, panoramic maps were still in vogue commercially.
LOOK AT SOME SAMPLES OF WHAT YOU WILL RECEIVE (PLEASE NOTE THAT THIS IS NOT THE SAME QUALITY AS WHAT YOU WILL RECEIVE, THE IMAGES HERE ARE DRASTICALLY REDUCED IN ORDER TO SPEED PAGE LOAD TIMES.)
AN EXAMPLE OF NORMAL VIEW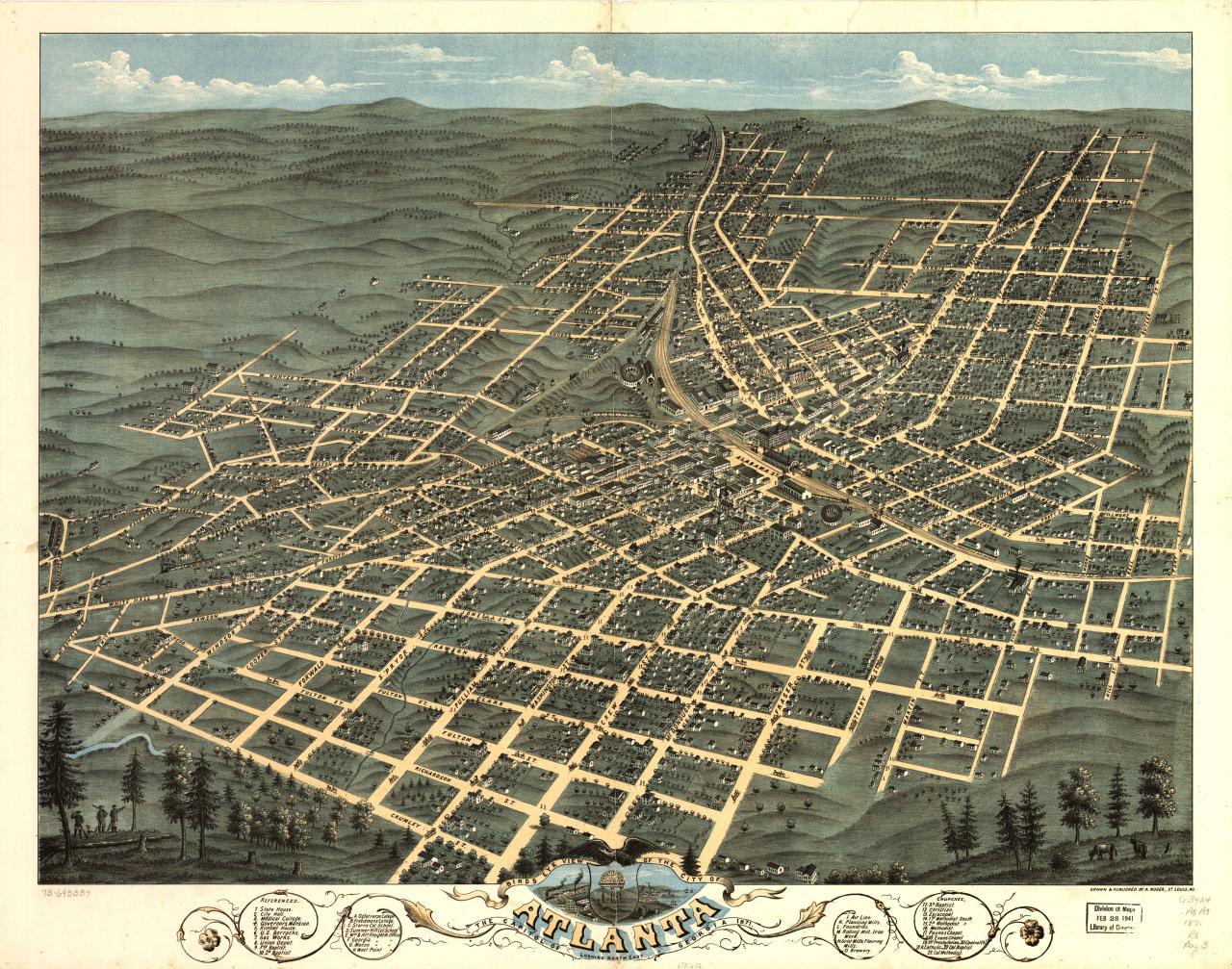 AN EXAMPLE OF ZOOM VIEW ON CENTER OF SCREEN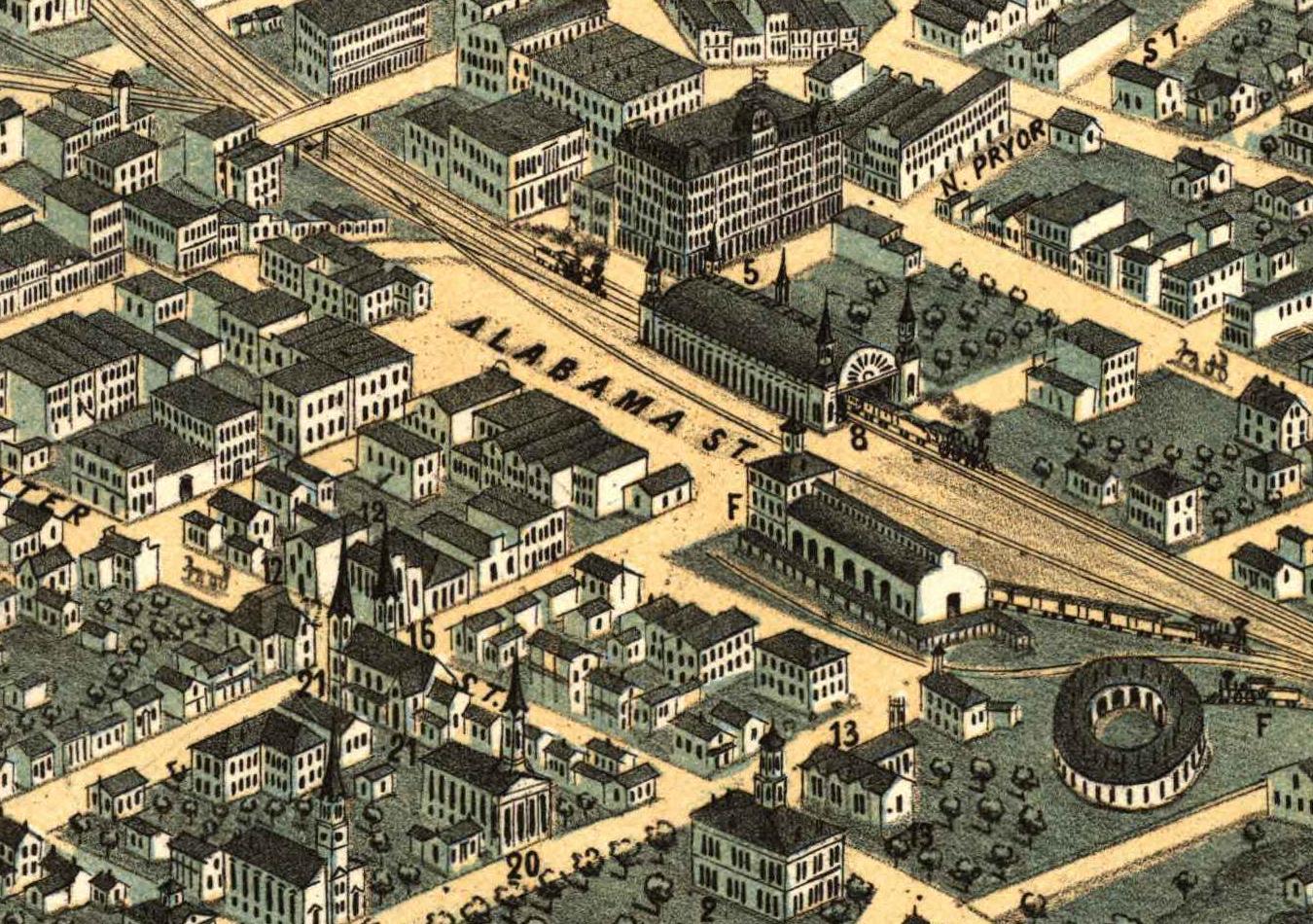 THE ABOVE WOULD BE AN EXAMPLE OF THE SIZE IF PRINTED! LOOK AT THE FINE DETAIL AND RESOLUTION!
HERE IS THE LIST OF STATES AND NUMBER OF MAPS OF EACH. WE HAVE ALSO INCLUDED THE CANADIAN MAPS ON THE DISKS!
U.S. State Panoramic Maps

Alabama
Arizona
Arkansas
California
Colorado
Connecticut
Delaware
Florida
Georgia
Idaho
Illinois
Indiana
Iowa
Kansas
Kentucky
Louisiana
Maine
Maryland
Massachusetts
Michigan
Minnesota
Mississippi
Missouri
Montana
Nebraska
Nevada
New Hampshire
New Jersey
New Mexico
New York
North Carolina
North Dakota
Ohio
Oklahoma
Oregon
Pennsylvania
Rhode Island
South Carolina
South Dakota
Tennessee
Texas
Utah
Vermont
Virginia
Washington
West Virginia
Wisconsin
Wyoming
District Of Columbia

Canadian Maps

British Columbia
Nova Scotia
Ontario
Quebec

Grand Total
# of Maps

10
1
6
52
25
56
1
13
15
1
65
17
20
9
8
3
27
12
112
45
38
1
39
10
6
2
43
43
2
191
14
3
48
7
9
207
8
2
7
12
20
7
26
21
20
29
62
2
18



4
1
6
2

1408
+ THE SPECIAL BONUS THE RARE 1570 "THEATRUM ORBIS TERRARUM" WORLD MAP COLLECTION BY ABRAHAM ORTELIUS! THIS IS THE COMPLETE COLLECTION INCLUDES ALL TEXT PAGES AND MAPS (53 MAP PAGES)
ALL PICTURE FILES ARE IN HIGH QUALITY JPEG FORMAT. SOME OF THESE FILES ARE OVER 30MB IN SIZE.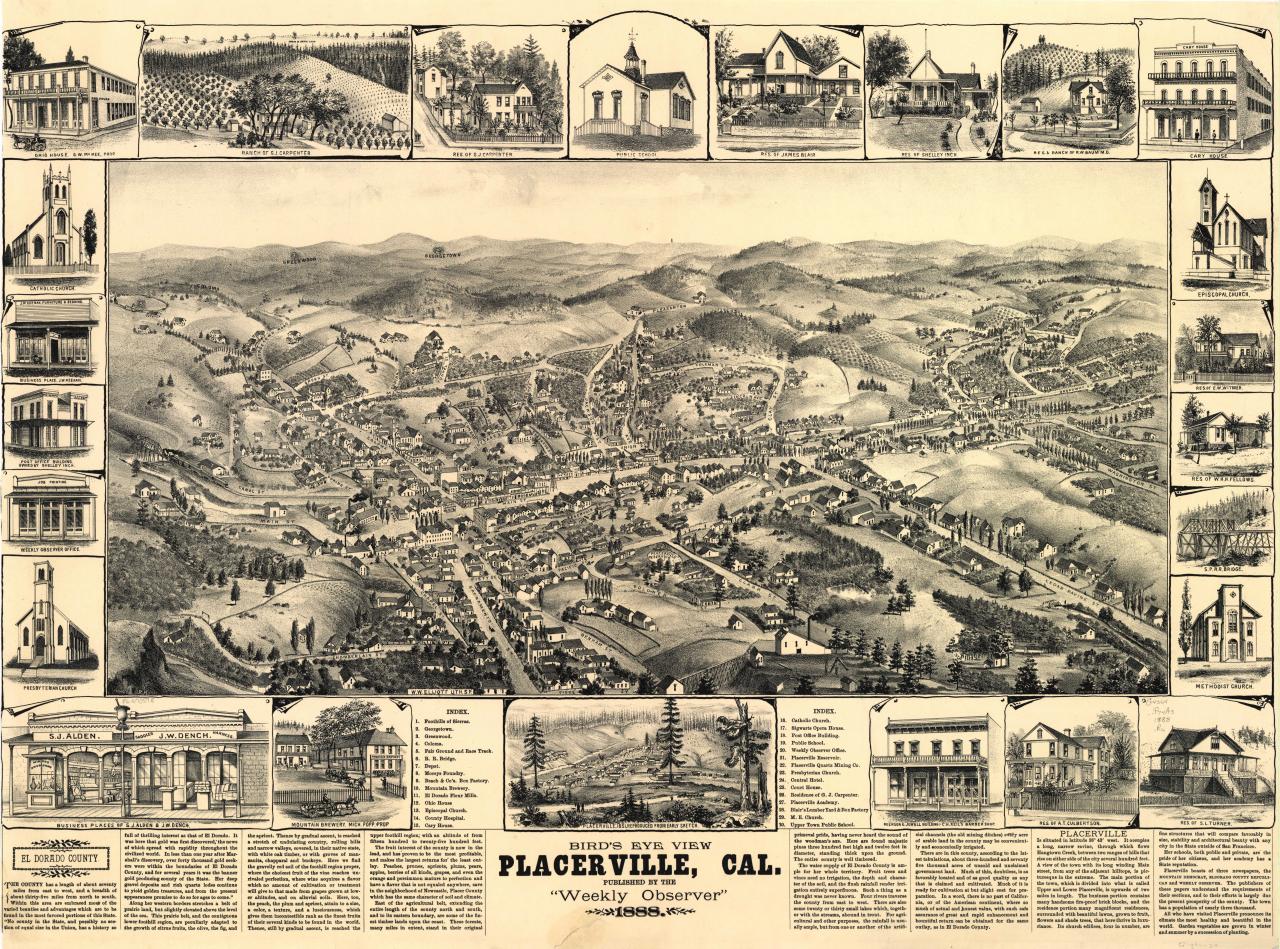 YOU SIMPLY WILL NOT FIND THIS DEAL ANYWHERE ELSE!

ALL FOR SUCH A LOW PRICE!

JUST REMEMBER THAT THE SAMPLE PAGES ARE DRASTICALLY REDUCED IN SIZE OR THIS PAGE WOULD TAKE FOREVER TO LOAD! THESE SAMPLES ARE NOT THE ACTUAL SIZE OF THE FILES ON THE DISK.

WHILE THE OTHERS CHARGE $9.99 PER CD DISK OR $149.00 FOR THEIR COMPLETE SET (OURS HAS MORE!!) WE GIVE ALL OF THIS TO YOU FOR 1 LOW PRICE. AND DON'T FORGET THE SPECIAL BONUS WHICH IS ONLY AVAILABLE WHEN YOU PURCHASE THIS FULL SET!

THIS IS A 3 DVD DISK SET WITH OVER 1,400 VINTAGE PANORAMIC MAPS AS DESCRIBED ABOVE ON THEM. THEY ARE VIEWABLE ON YOUR COMPUTER WITH YOUR NORMAL PICTURE VIEWING SOFTWARE THAT CAN VIEW JPEG FILES. WE RECOMMEND THAT YOU USE THE WINDOWS PICTURE AND FAX VIEWER AS THE MOST CONVENIENT TO VIEW AND ZOOM AND THEN GO TO THE NEXT IMAGE. WE HAVE ALSO INCLUDED A FREE PICTURE VIEWER THAT IS COMPATIBLE WITH WINDOWS 95 ON UP IF YOU DESIRE. YOU CAN PRINT OUT PAGES OR VIEW ON THE COMPUTER. THE BEST PART IS THEY NEVER WEAR OUT. QUIT OVERPAYING!!! GET THEM ALL FOR 1 LOW PRICE!!!

THIS IS THE LARGEST COLLECTION FOR SALE!!!

GET ALL OF THESE FOR 1 LOW PRICE.

THIS WON'T LAST LONG SO BUY IT NOW. QUIT SPENDING MONEY ON INDIVIDUAL ITEMS AND GET EM ALL!!!

THIS IS THE ONLY COLLECTION OF IT'S KIND. HERE EXCLUSIVELY!!!

Windows System Requirements: * Intel Pentium Processor * Windows 98SE/Me/2000/XP/VISTA * 32MB RAM * DVD-ROM DRIVE

MAC System Requirements: * MAC OS X v.10.2.8 or ABOVE* 32MB RAM * DVD-DRIVE *FREE SOFTWARE IS NOT MAC COMPATIBLE.

THESE ARE THE BARE MINIMUM SYSTEM REQUIREMENTS. WE RECOMMEND THAT YOU SHOULD HAVE TRIPLE THE RAM MENTIONED ABOVE AND A PENTIUM 4 OR ABOVE FOR OPTIMAL VIEWING AND LOADING AS THE PICTURE FILE SIZES ARE LARGE. PLEASE UNDERSTAND THIS BEFORE PURCHASE AS THERE ARE NO REFUNDS DUE TO SLOW LOADING ETC. AS WE HAVE NO CONTROL OVER RUNNING PROCESSES ON ANY CUSTOMERS COMPUTER. PLEASE READ REFUND POLICY.

DISK'S COME WITH NO FRILLS IN A PAPER SLEEVE WITH RETAIL LABELING AND ULTIMATE QUALITY CONTENT. THEY WILL PLAY ON A COMPUTER WITH THE SYSTEM REQUIREMENTS AS STATED ABOVE. NO PHYSICAL PAPER MATERIALS ARE BEING OFFERED OR SENT.

OUR GOAL IS
1st class customer support and fast delivery
ALL OF OUR ITEMS SHIP IN PADDED MAILERS WITH DELIVERY CONFIRMATION AND TRACKING.
WE USUALLY SHIP WITHIN 24 HOURS OF RECEIVING PAYMENT. WE SHIP EVERYDAY EXCEPT SUNDAY.

All material is in the public domain. No copyrights are infringed. The Ultimate VINTAGE PANORAMIC DVD SET is copyright 2007 and may not be reproduced, copied or resold under any circumstances.

ABSOLUTELY NO SALES TO DEALERS OR SELLERS.